8 steps to a clean home and fresh start this new year.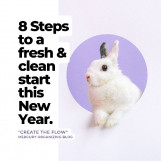 Congratulations on welcoming the new year! You wrapped up loose ends from the past year, decluttered your home, and organized the much-needed spaces. The New Year is here, and it's time to make room for the new. Just like cleaning up the house for a guest who is coming over to visit, clearing out the old to make room for the new will help you start out the New Year with a good feeling of accomplishment. It is not based on any superstition, but rather on the sensation of moving past anything that no longer requires your attention and focusing on what your priorities are for the future.
To create that fresh smell in your home, you need to clean and dust, room by room. It's an energetic principle to help you create the kind of mindset, focus, and feeling of newness you want. It's like pressing the reset button and getting a fresh start. Here are eight steps to start feeling happy in your home and loving where you live again. If you don't feel it yet, you will once you finish this New Year's chore.


Here are 8 steps to a clean home in the New Year
If you haven't yet, start decluttering your home. Take the time to go through all the items in your home and decide what you need and what you can get rid of. This will make cleaning much easier. Check out our blog post, "How to Declutter Room-by-Room.".
Put away clothes, toys, and loose items
Dust all surfaces and furniture. Don't forget about those nooks and crannies and those cobwebs in the corners of the ceiling.
Clean and disinfect all bathroom and kitchen surfaces.
Clean mirrors, windows, curtains, and blinds.
Vacuum, sweep, and mop all floors. Don't neglect the hard-to-reach places, move furniture if you have to.
Wash all bedding and towels
Finally, empty all the trash cans and replace the liners.
To help move the stagnant energy in the air, open up the windows and let in the fresh air. When you finish for the day, you'll notice a shift in your energy. Setting aside the meditative principles of cleaning and washing, there's a bit more to shifting the focus that benefits you than just having a clean and relaxed home. Notice a feeling of satisfaction and relaxation. It's not just because you are tired from all that exercise, but because the open and clear spaces you created, give you a sense of accomplishment.
Here are a few helpful cleaning and organizing tools with high reviews.

You can find these organizing and cleaning products to be great tools to get the job done.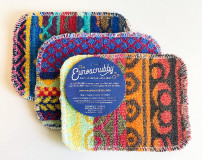 Good Solutions Original Euroscrubby
Recycle, and reuse with Good Solutions
Standard Pack of 3
Washable Paperless Recycled Kitchen Towels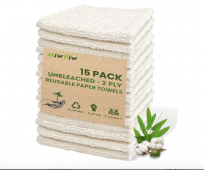 Highly absorbent Cotton and Bamboo Towels
100% Unbleached Organic Natural Fibers: Made from 80% cotton and 20% bamboo fiber, our absorbent towel is perfectly thick and soft for surface wiping. No harmful chemical or color is added for environmental protection. Extra Durable: Each towel can be reused up to 500 times
Heavy-Duty Broom Closet Organize
Heavy-Duty Broom Closet Organizer for Garage, Kitchen, and Laundry Organization: Broom and Mop Holder; Tool Hanger with 3 broom racks and 4 broom hooks
Jan 22, 2023
by