Eat and Be Merry your way into an organized holiday season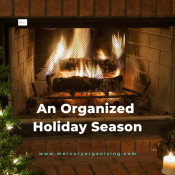 Thanksgiving is just around the corner, and it already feels like everyone is gearing up for the Christmas Marathon. Whether you're going all out with a festive feast or keeping it simple, this time of year can be a roller coaster of emotions. Once Black Friday hits, the race is on to snag the best deals on gifts. The ultimate goal? That satisfying feeling at the end of Christmas when you know you nailed the perfect gifts for everyone, enjoyed your favorite holiday movies, made your family feel included and loved, and had a blast with friends during holiday "get-togethers". My Christmas wish is for everything to go smoothly so we can look back with even more gratitude.
In this blog post, I will give helpful tips on how to prepare for your holiday season. Starting with Thanksgiving dinner, get a guide to preparing before and after Christmas, a plan for resetting after the New Year, and finally, something to motivate you to care for yourself along the way.
Thanksgiving meal planning tips- Get your printable meal planner

How to create a memorable holiday season

Steps for an organized Christmas

Reset and refresh for the New Year

Create time for yourself
In my family, large gatherings are happening less frequently since our grandmother passed away, and some family members have moved away. We've decided not to pressure each other for gifts or insist on meeting on the actual holidays. Instead, we focus on finding time to connect throughout the year. But for those who have this one chance to see family and partake in holiday traditions, it's a whirlwind of activities before and after the holidays.
As you gear up for holiday travel, decorating, meal planning, and gift-giving from Thanksgiving week until after New Year's, consider a few tips to stay organized and reduce stress. Cherishing the time spent together and actually enjoying yourself is the end goal. So, let's dive into the holiday season with a plan that ensures a more relaxed and organized experience when it's all said and done.
Let's start with Thanksgiving meal planning:
Thanksgiving marks our time to express our gratitude for the many blessings we have and the blessings we can share with others. It's my favorite holiday. I love that every autumn we get to create a comfortable, cozy feeling with food. What better way to make them feel appreciated than to work hard on a meal and have everyone gobble it up for a Thanksgiving feast? Hopefully, you will have others bring a dish to make it easier on you. But either way, as we prepare for a wonderful Thanksgiving meal with our friends and family, it's essential to stay organized to ensure a smooth and enjoyable celebration.
Here are some simple tips to get you going for Thanksgiving.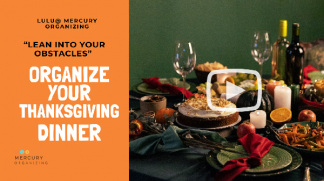 1. Guest List:
Make a list of friends and family who will be joining you.
Confirm who is indeed attending so that you know how much food to prepare.
2. Menu Planning:
Decide on the dishes you want to serve (turkey, stuffing, mashed potatoes, etc.).
Consider anyone with an allergy. Do you have any guests attending with allergies?
Create a shopping list based on the chosen menu.
3. Shopping:
Head to the grocery store with your list.
Check for any ingredients or items you may already have at home.
Don't forget to buy extra essentials, like ice. Can you use cloth napkins this year instead?
4. Cooking Schedule:
Plan a cooking schedule for the days leading up to Thanksgiving.
Some dishes can be prepared in advance, reducing stress on the big day.
5. Decorations:
Plan the table setting and decorations.
Consider involving the kids in making simple, homemade decorations.
6. Thanksgiving Day Timeline:
Create a timeline for the day, including when to start cooking each dish.
Factor in time for breaks and relaxation.
7. Entertainment:
Plan some fun activities or games for guests.
Create a music playlist to enhance the mood you want.
8. Leftovers:
Make enough food for leftovers and have containers ready for guests to take some food home.
Plan for creative ways to use any extra food.
9. Cleaning:
Clean and organize your home in the days leading up to Thanksgiving.
Ensure there's enough seating for everyone.
Remember, the most important thing is to enjoy the time with loved ones and give thanks for the blessings in our lives. So, find a moment throughout the day to be grateful. Happy Thanksgiving, Make it easy to stay organized for Thanksgiving with my free, printable PDF planner. print on to your own computer or mobile device.
Get your
FREE
meal planner: Click here:
Get your free Thanksgiving Meal Planning Guide


Unwrap the Magic: Essential Tips for a Fantastic Holiday Season

Now that you're rolling over and recovering from your Thanksgiving coma, its time to roll into the next phase of the holidays. Get your Christmas on! Are you ready for party hopping and gift wrapping? Don't worry, I'll help you turn the stress into success with a dash of holiday magic!
Trimming the tree and setting up the holiday decor is usually a personal preference. When do you unleash the festive frenzy? Do you deck the halls before or after the Thanksgiving leftovers are finished? And what about your family? Are they part of the decoration committee, or is it a one-person show? No matter the strategy, the endgame is always the same: to create a magical wonderland ready for Christmas Eve and be ready for Santa's mysterious visit on Christmas Day. It's a bit like a race, but instead of a finish line, we're racing towards the jolliest day of the year. How can you make this holiday hustle less of a hassle? Having a plan in place will keep you
When you are organized, there is a rhythm to the organizing and a momentum you keep to transition from one holiday to the next. If you stuck around with me this far, you may very well be an expert planner and organizer by now. Once you make a plan and stick with it, you can let everything else fall into place.
Planning for the holiday season involves several tasks to ensure a smooth and enjoyable celebration.
Getting ready for the holiday season means doing a bunch of things to make sure your celebration goes well and is lots of fun. If you're just a regular family having a good time and not a big business making a huge show out of Christmas, then these tips will help you stay organized without going overboard with decorations.
Take these steps for Operation Organized Christmas:
1. Getting Ready:
Decide how much money you can spend on decorations, gifts, and food.
Make a list of people you want to invite over.
Plan what foods you want to cook for the holiday.
2. Decorating the house:
Pick a day to put up decorations.
Decorate the Christmas tree with ornaments.
Make the house look festive with lights, wreaths, and other decorations.
3. Gift Giving:
Write down who you want to give gifts to.
Decide how much you can spend on each person.
Buy or make the gifts.
Wrap the gifts in pretty paper with bows and tags.
4. Planning the Feast:
Plan what foods you want to have for the holiday meal.
Make room in the fridge.
Write a list of things to buy for the meal.
Buy some of the things that won't go bad early.
Plan when to cook each dish.
5. Cleaning Up:
Clean the house before you decorate. Hire help or get kids to pitch-in
Make space by putting away things you don't need.
Get ready for the guests you invited over.
Make room in the coat closet.
6. Cooking and Baking:
Make a cooking schedule. Figure out when to use the oven and stove for each dish.
Make some dishes ahead of time and freeze them.
Ask family or friends to bring a dish to share.
7. The Day Before the Feast:
Start cooking early and follow your plan.
Double-check your food and drink inventory
Set the table nicely with special plates and glasses (using paper this year). Think sustainable).
Create a music playlist and pick some movies to watch later.
8. Day of the Feast:
Check with guests bringing food to make sure everything's okay.
Have a spot for nibbles, appetizers, and drinks.
9. Take time to enjoy the fruits of your labor.
Enjoy the holiday with your family and friends.
Ask someone to take photos and videos to remember the day.
-Play games or watch your holiday movies
10. Cleaning Up After All the Fun:
Plan how to clean up dishes and the kitchen. Who can you recruit to help?
Use recycling and trash bins for garbage.
Keep some leftovers and send some home with guests.
11. After the Holiday:
Thank people for any gifts you received.
Decide what to do with the Christmas tree.
Wrap up decorations to store or donate.
Journalize your experience and get inspired for the new year.
The Holiday Reset: Take steps to reset and refresh for the upcoming new year.
Once Christmas is over, resetting your home doesn't have to be a daunting task. By following these simple tips, you'll be well on your way to a clean, organized, and refreshed space for the new year. You'll know when it's time.
In extending the spirit of Christmas, I choose to maintain the festive ambiance a bit longer by keeping my tree and decorations in place until Three Kings Day. This tradition aligns with the celebrations observed in various European and Latin American cultures.
Three Kings Day, commonly known as the Epiphany, is celebrated by the sharing of a "Rosca," a circular cake similar to a "King" cake. It's the discovery of the baby Jesus in one's slice of the "Rosca" that allows you to be crowned king or queen and, perhaps, host the following year's gathering. This delightful extension of the holiday season extends my joy for an additional two weeks beyond Christmas and the New Year.
For me, New Year's Day and the Epiphany mark the next step in clearing and preparing for the opportunities that a new year brings.
Following the holiday festivities, a simple process of packing up the home decor, like the Christmas tree, is carefully dismantled and either stored or recycled. The transitional phase of taking things apart makes me reflect on this past season. The process reminds me of how Christmas started out with hope and looking forward to January, which gives me a more contemplative and nostalgic feeling. As the new year begins, it's an ideal time for me to purposefully take the time to carefully pack away each holiday decoration. I perceive this as a natural ritual. It serves as a means to approach the serene days of winter with a focus on self-care, contributing to a sense of optimism for the days to come.


Time to Pack Away Holiday Decorations: The Reset
When it's time to reset my home and start the new year with a fresh and tidy space, I first start with the kitchen. I put all the serving platters, plates, baking pans, and roasting pans back on their shelves until next holiday. This is usually done the day after a big feast.
I enjoy the tree with lights, the Christmas cards, and the wreaths the most, so I keep those on display for as long as I can. I'll start with the holiday decorations and take things apart a little at a time.
I wrap them back in a new bin or box. I upgrade the boxes every year when I have a chance. Holiday decor such as the stockings, reindeer and snowmen, Santa and Mrs. Claus figures, plus the holiday blanket and pillows, not to forget the candles. These are wrapped and stored away for next year.
Pack Away Decorations with Care:
First things first, tackle the twinkling lights and ornaments.
Grab some sturdy boxes and carefully pack away your Christmas decorations. This will not only keep them safe for next year but also create a clean slate for the new year.
Declutter your home.
Out with the old, in with the new. Take a look around your home and identify items that you no longer need. Maybe there are some old toys, clothes, or gadgets that could find a new home. Decluttering not only makes your home look neater but also gives you a sense of accomplishment.
Organize Your Gifts:
With all the excitement of unwrapping presents, your living room may have turned into a gift-wrap tornado.
Take a moment to organize and put away your new goodies.
Assign a home for each item, making it easier to find and enjoy later.
Tidy Up One Room at a Time:
Cleaning up can be overwhelming, especially if you try to do everything at once. Instead, tackle one room at a time.
Start with the bedroom, then move on to the kitchen, and so on. Breaking it down makes the task more manageable and less stressful.
Set a timer for quick clean-ups.
If you're short on time, set a timer for 15-20 minutes and focus on cleaning up as much as you can in that time frame.
It's amazing what you can accomplish when you have a deadline, and it prevents the task from feeling like an endless chore.
Create a Relaxing Nook:
If you live in a place where the weather goes from hot to cold, you might like winter more if you find ways to stay warm.
In busier times, it's important to find a comfy spot just to relax.
Set up a cozy area with pillows and blankets where you can read a book or just take a break to relax.
Having a special spot for relaxing will help you feel better and start the new year with good feelings
Take time for yourself.
Last but not least, don't forget to take care of yourself.
Treat yourself to some quiet time.
Do something to make you feel at ease and happy.
Try such things as taking a warm bath, reading a favorite book, or spending some time doing an activity you love.
Taking care of yourself is just as important as taking care of your home.
So, summing things up, as we transition from one holiday celebration to another, it is our thoughtful and organized approach that will ensure a smooth and enjoyable experience. It doesn't matter what big feast or daily meals you're cooking; taking the time to organize the steps and ingredients creates a smooth experience. By taking the time to prepare for your holiday fun, you will be more aware of how you feel and can make adjustments as you move along your day. Pay attention to your feelings, and remember that embracing gratitude, connection, and self-care allows us to navigate the holiday season's roller coaster of emotions. At the end of a hopefully fun-filled season, you'll know when its time to wrap things up and, with care, get ready for the New Year with new intentions and hope.
Happy holidays, and may the new year bring you peace, love, and happiness.
Lulu
Nov 16, 2023
by