Beginner's Guide to Spring Decluttering and Organizing.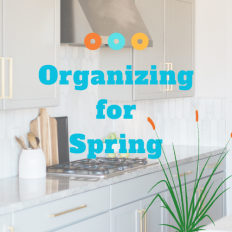 Getting your home ready for spring cleaning is no easy task. But before you start, it's important to create a plan for each area of your home. You can't really clean and wipe down dusty surfaces when your counters are cluttered with trinkets or products. You are not really cleaning a home when it is full of clutter. You will ensure success, by creating a plan to tackle each room and breaking up the tasks into manageable steps.
Cleaning your home is easy only after you have removed all the clutter, but by doing it room by room, you'll have a better chance of getting it done. What should you include in your plan? A plan should include the following steps: Decide what to keep, what to donate, and what to toss. I suggest you create your own spring cleaning to-do list, taking these three steps for each room. Here are the steps you will take for each room:
Decide which rooms you will work on first
Which room will you tackle first? Maybe there is a guest coming to stay soon and you'll need the extra bedroom. So pick a space that is completely available to start working on, or even pick one that is in dire need of organization.



Create a timeline
It can be helpful to set goals for how much you want to accomplish each day or week. This will help you stay on track and make steady progress toward a clutter-free home. Think about what your schedule looks like and decide how much time you can dedicate to your spring cleaning campaign.
Go room by room
Describe each room's current condition and describe how you would like to see it. Imagine how it will function for you. The following list has the general rooms in the average home, but you may want to add or remove any rooms if you need to.
Attic
Basement
Bathroom
Dining Room
Entryway
Garage
Kitchen


Living Room




Master Bedroom


Pantry
Second Bedroom
Shed
Remove the clutter
Start by editing and removing those items that you don't need or want from each room. Take away anything you know you don't want anymore. Toss or recycle what you can't repair or use any longer. Donate anything that can be useful to others.
Put like items together
Now that you've removed the excess from each room, work with what you have left and put like items together. Once you know how much you have, you'll be able to find a place to store everything.
Organize and find a home for everything
When you've made a decision on what you're keeping and what you're storing, you can get to the final phase and store your items.
Get the right container
Another important aspect of organizing is finding the right storage solutions for the items you're keeping. This might mean investing in new storage containers, shelves, or other organizational tools that will help you keep everything in its place.



Use a spring, decluttering, and organizing checklist
To help you stick with a plan, I created a checklist and planner. Just download it, print it, and use the checklist to help you stay on track. Mark off each of the rooms as you complete them.

Remember, decluttering, organizing, and cleaning for spring is a process that takes time and effort, but the end result is a relaxed, tidy, organized, and hopefully happy space. So don't be afraid to take it one step at a time and appreciate your progress along the way.
Mar 8, 2023
by